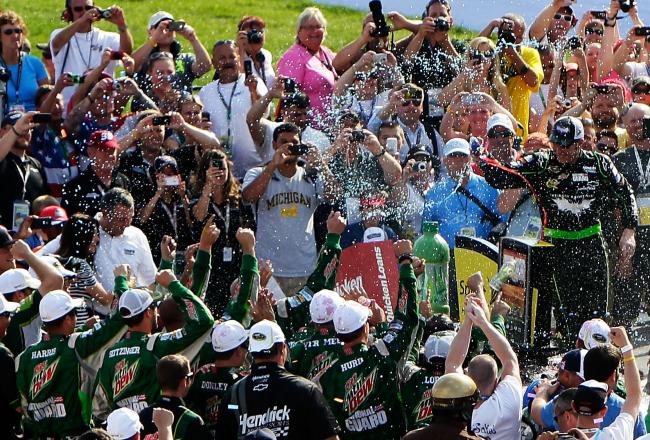 With today's win in the Quicken Loans 400 at Michigan International Speedway, Dale Earnhardt Jr. scored the 19th win of his Sprint Cup career and snapped a career-worst 143-race winless drought. Needless to say, plenty of folks had words of congratulation all over the NASCAR paddock, and many of them made their way to Twitter.
The congratulations extended long beyond the fraternity of NASCAR drivers, though. 2003 CART champion Paul Tracy tweeted, "I refrained from saying go Dale go, (because) something goes wrong every time, but that was cool to see him dominate!" Legendary IndyCar driver and 1969 Indianapolis 500 winner Mario Andretti added, "Really great to see Dale Jr in victory lane again. Big congrats Jr!"
*This piece received 1,931 reads and 20 comments as of 1 PM ET on Monday, June 18, 2012. It increased to 2,932 reads and 31 comments as of 11 PM ET on Wednesday, June 20, 2012.